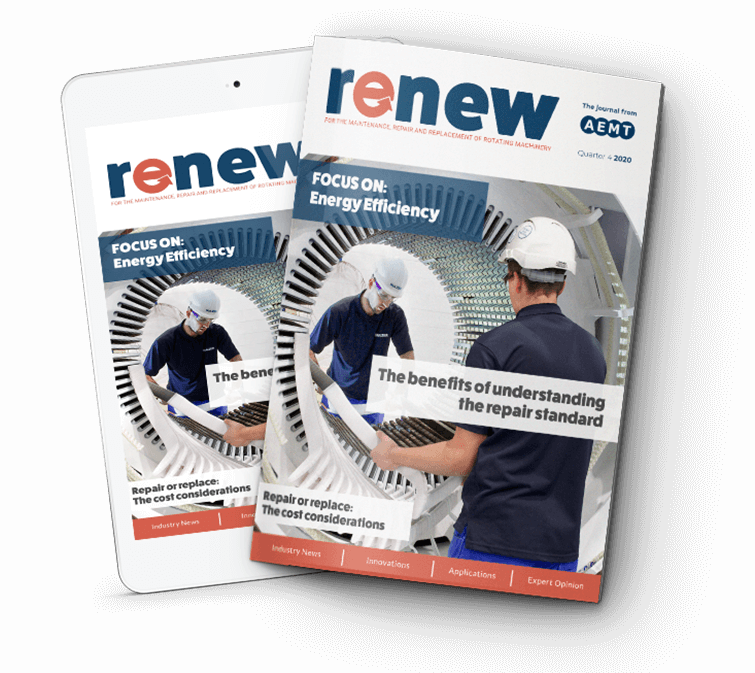 Insight into the repair, maintenance and replacement of rotating machinery
Published quarterly, Renew is aimed exclusively at users of electric motors, drives, pumps, fans, gearboxes, generators, transformers, switchgear, and ancillary equipment.
Filled with news, insight, inspiration, thought leadership, new products, and more, Renew delivers engaging content to those individuals with responsibility for maintaining the safe and efficient operation of electrical and mechanical plant and equipment throughout the manufacturing and process industries.
Read the latest issue of Renew online now!
And if you want to make sure you see every future issue of Renew – either online or in print – request a copy by registering your details below.
The latest news, insight and information for users of rotating machinery – direct to your inbox or in-tray every quarter!
Request your free copy.
Renew magazine is published in both print and digital formats. Copies are sent, free of charge, to eligible readers in the UK and Ireland. To be eligible, recipients must have responsibility for specifying, designing, using and maintaining rotating equipment and accoicated technologies.
To request a free copy of Renew magazine, please submit your details on this application form.
Please note that application does not guarantee acceptance. Where the number of requests exceeds the number of printed copies available the publishers reserve the right to offer an alternative (digital) version.
Where the publishers are not satisfied that an applicant meets the eligibility criteria, they reserve the right to refuse an application for free copies and may offer a paid subscription as an alternative.
Direct requests for a paid subscription can be made by emailing our circulation department at circulation@renew-mag.com
Advertising enquiries
Andrew Castle – Sales Director
07785 290034
andrew@renew-mag.com